Elvira and Heinz are the estate owners and both expert body therapists.
Enjoy one of their restoring massages during your stay in Fuerteventura. 
LOMI LOMI NUI –The 'sacred' massage
It comes from the ancient Hawaiian kahuna massage  techniques. Besides its many therapeutic effects, it is used to bring people to a open themselves and their purpose in the universe understanding. The massage provides a vehicle to our transformation, promoting the opening of our deeper self.
This ancient knowledge opens the door regenerating the vitality of our own and is a tool that prepares the journey to the reconnection and transformation of the being, dissolved the old mentalities and enabling traumas resilience.
Lomi Lomi Nui is a deep and fluid massage performed with gentle rocking of the body, simulating the movement of the waves. For this special massage oil prepared under the power of the pyramid is used.
By the healing of Chi Now is restored and energy flow of the chakras and life energy harmonized. The session with a coach exchange closes.
Duration 1h-1h30min, as required by the person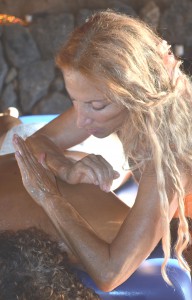 THERAPEUTIC MASSAGE
Heinz is a former doctor and manual therapist trained in reiki.
He performs physiotherapeutic, sports and relaxing massages, applying different manual techniques based on the movement of joints and muscles. These practices promote an analgesic, calming or stimulating reaction.
The massage balances the body in general and the muscular area where needed. In short, these massages are intented to improve the muscular, articular, lymphatic, circulatory system and the general condition of body, mind and spirit.
Therapeutic massage ( 1hr aprox.) Price 65€
Lymphatic drainage massage ( 1hr aprox.) Price 75€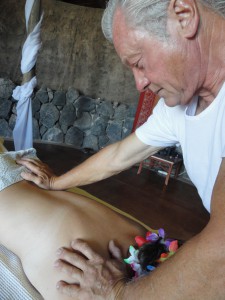 *** Book your massage with us :
Tel. +34 629 33 30 81
Email: alternativhouse@gmail.com